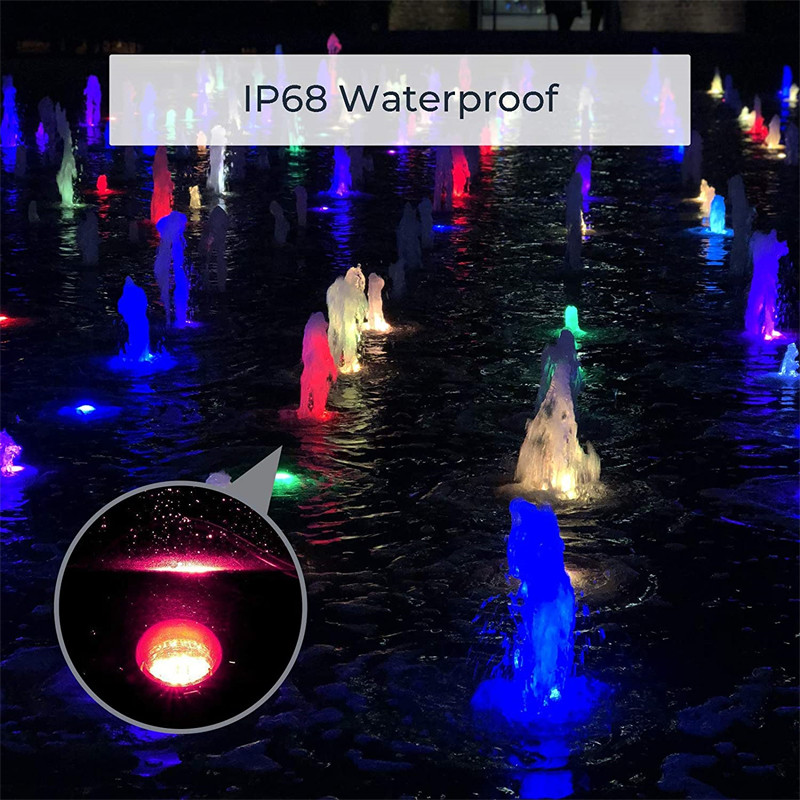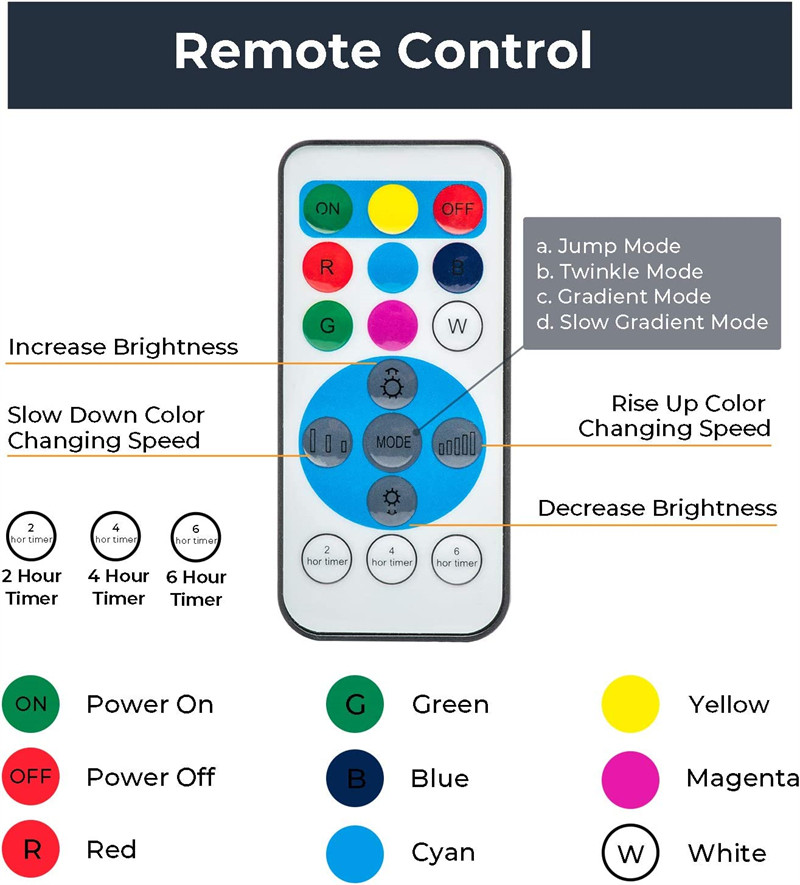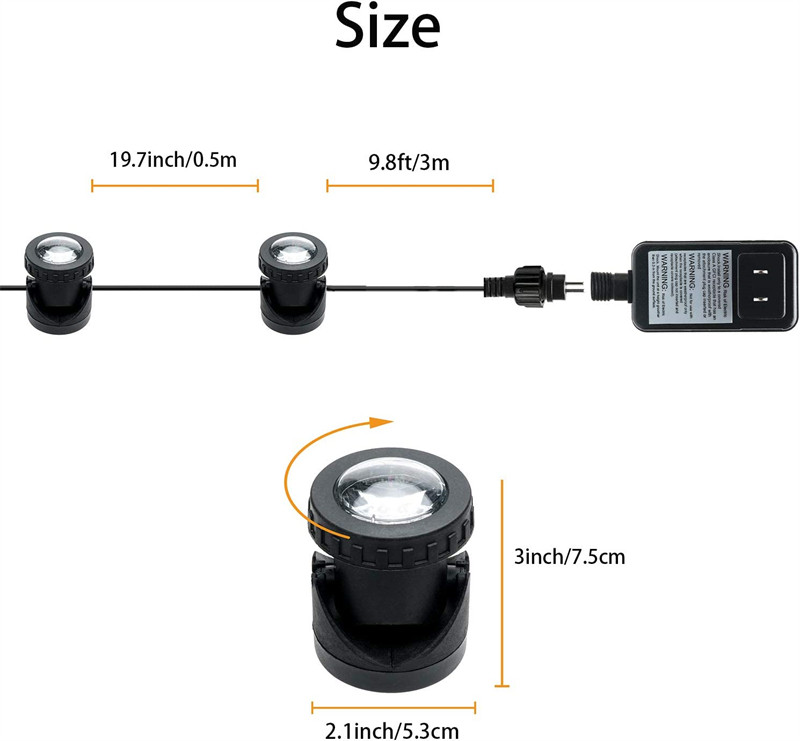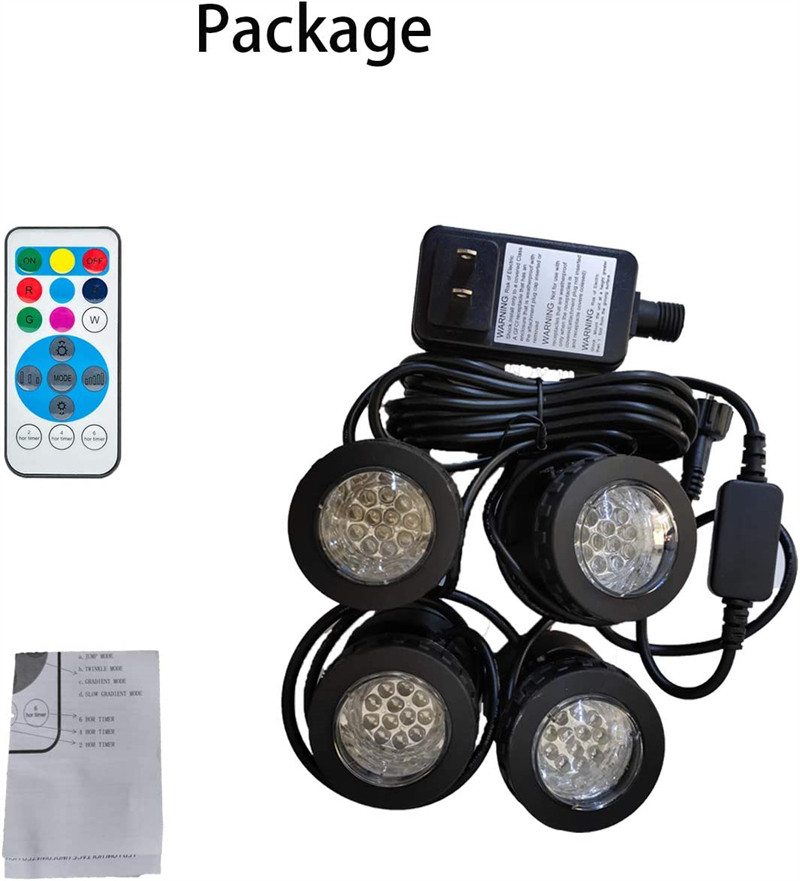 LED Fountain Lights, Underwater Pond Lights Color Changing Outdoor Spot Light IP68 Waterproof Yard Landscape Lights Colored Garden Spotlights Weighted Submersible Lights with Timer (Set of 4)
· 【Submersible Lights】This led fountain lights is IP68 waterproof, can be set underwater, will give you a beautiful water lighting effect. If the remote doesn t work, replace the battery for it or contact customer service.
· 【Colorful LED Lights】This underwater lights have 7 stable lighting color(yellow green red blue magenta cyan and mixed white) and 4 flashing modes, which controlled by remote.The White color is an RGB combined color, not real White.
· 【Timer Fuction】You can set this landscape lights on timer for 2/4/6 hour, just press the button on the remote, very easy to control.
· 【Weight Lights】This pond light have built in some weight, will stay underwater won t float when you put it underwater.
· 【90° Angle Adjustable】The head of this color changing spot light is 90 degree adjustable, you can easily point to the perfect place.
| | |
| --- | --- |
| Color | set of 4 |
| Light fixture form | Spotlight |
| Indoor/Outdoor Usage | Outdoor |
| Power Source | Battery Powered |
| Special Feature | Color Changing |
| Control Method | Remote |
| Light Source Type | LED |
| Number of Light Sources | 2 |
| Package Dimensions | 7.36 x 4.92 x 3.39 inches |
| Item Weight | 2.04 pounds |
| Manufacturer | Skyline Lighting |
| ASIN | B08R02XJ1QM |
| Batteries | 1 CR2032 batteries required. |
Introducing the Skyline Lighting Submersible Lights, perfect for adding a touch of color and illumination to your water features. These lights are designed to be set underwater, making them perfect for fountains, ponds, and other water features.
The Submersible Lights are equipped with 7 stable lighting colors (yellow, green, red, blue, magenta, cyan, and mixed white) and 4 flashing modes, which can be controlled by a remote. The white color is an RGB combined color, not real white. You can easily adjust the color and mode settings using the included remote.
With a 90-degree angle adjustable head, you can easily point the light to the perfect spot, ensuring that your water feature is beautifully illuminated. The lights also feature a built-in weight that ensures they will stay underwater and won t float.
In addition, these lights come with a timer function that allows you to set them to turn off after 2, 4, or 6 hours, making them convenient and energy-efficient. The remote makes it easy to control the lights from a distance, allowing you to adjust the settings without having to reach into the water.
These Submersible Lights are battery-powered and come with 1 CR2032 battery included. They are also IP68 waterproof, ensuring that they can endure any water conditions.
Overall, the Skyline Lighting Submersible Lights are a great addition to any water feature, providing stunning illumination and a touch of color. They are easy to install and control, making them a convenient and energy-efficient lighting solution.